EPA Again Drags Its Feet On Banning A Pesticide Linked To Brain Damage In Children
While lives are at stake, EPA is delaying the chlorpyrifos ban
Seattle, WA
—
Today, the U.S. Environmental Protection Agency asked the Ninth Circuit Court of Appeals to rehear the case in which it decided that the EPA must ban chlorpyrifos within 60 days. Filing the request has the effect of postponing the effectiveness of the court order. Trump's EPA is putting off the ban despite the overwhelming scientific evidence that chlorpyrifos is linked to brain damage in children and farmworker poisonings. In August, the appeals courts ordered the Trump administration to finalize the chlorpyrifos ban the EPA itself proposed based on strong scientific evidence that this nerve agent is dangerous for public health — particularly children and farmworkers — and the EPA's clear violation of its legal obligation to ban unsafe pesticides.
The following is a statement by Patti Goldman, Earthjustice managing attorney: "Trump's EPA is delaying the inevitable and putting people in harm's way. By keeping this unsafe pesticide in our food and drinking water, EPA is violating the law. Every day we go without a ban, children and farmworkers are needlessly eating, drinking and breathing this dreadful pesticide."
Background information
Chlorpyrifos was banned from home uses nearly 20 years ago as it was linked to lower birth weight and neurological disorders in children. But agricultural use continues in apples, broccoli, citrus, and some 50 more crops. A decade ago, Earthjustice and partners began legal action to protect children, farmworkers, and rural communities from chlorpyrifos. The EPA has found chlorpyrifos unsafe in our food, our drinking water, and when it gets into our bodies through direct exposure or pesticide drift. While families across the country are at risk of dangerous exposure through food and drinking water, farmworkers and children living in rural Latino communities face disproportionate risk. Chlorpyrifos is unsafe for farmworkers even with the most protective safety gear. In addition, their children risk exposure at home, as chemicals can linger on work clothes. Anyone living downwind of farms risks exposure too, when wind carries the toxic spray into schools and homes.
Learn more about chlorpyrifos.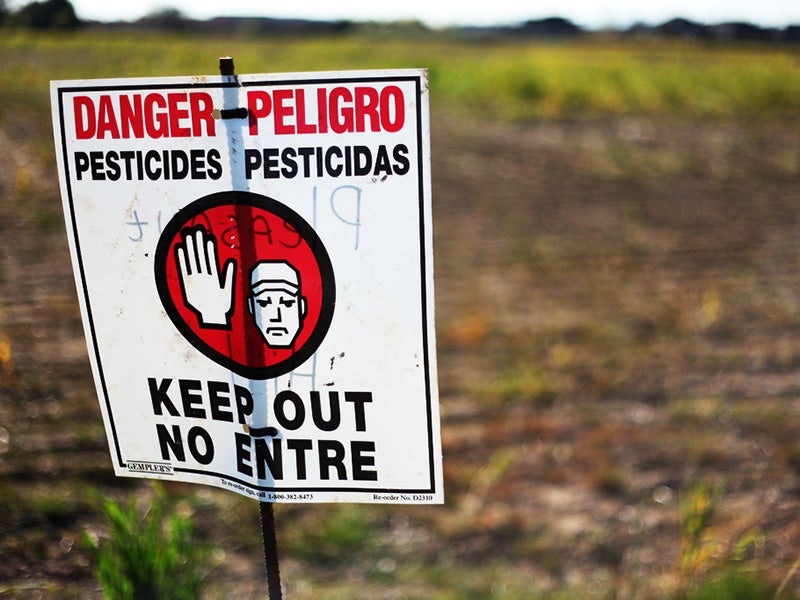 Earthjustice is the premier nonprofit environmental law organization. We wield the power of law and the strength of partnership to protect people's health, to preserve magnificent places and wildlife, to advance clean energy, and to combat climate change. We are here because the earth needs a good lawyer.