Indigenous Heritage Sites Are at Risk of Destruction. Biden Can Change That.
A historic totem pole journey builds pressure on the Biden administration to fulfill promises made to the first peoples of America's lands and waters.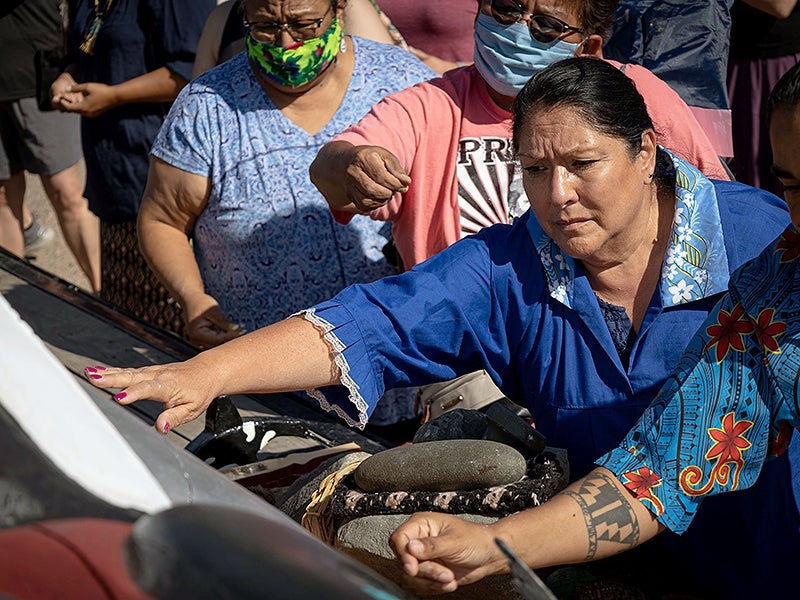 A 25-foot totem pole hand-carved from a centuries-old cedar tree arrived in Washington, D.C., with a message for President Biden from Indigenous leaders and their allies.
The demonstration was the culmination of the Red Road to D.C., a 20,000-mile journey led by the House of Tears Carvers of the Lummi Nation, an Indigenous Tribe of the Pacific Northwest.
Joined by the nation's first Native American Secretary of the Interior, Deb Haaland, Council on Environmental Quality Chairwoman Brenda Mallory, and many tribal leaders from across the country, today's action served as both a symbol of Indigenous solidarity and an urgent reminder to the Biden administration to fulfill the promises that were made to the first peoples of America's lands and waters.
At a time when the sovereignty, livelihoods, and continued existence of Tribal Nations are under increasingly grave threats from the resource extractive industries fueling the climate crisis, the Red Road's primary goal is to ensure that the federal government acts swiftly to protect these sacred Indigenous sites.
Tell President Biden: Listen to Native nations. No projects without consent.
The coalition is demanding that President Biden issue an executive order requiring the informed consent of Native Nations prior to the approval of federal projects that would affect their lands, waters, culture, and livelihood.
The Red Road to D.C. tour made stops at sacred sites where fossil fuel pipelines and dam projects are encroaching upon the land and water rights of tribal communities, jeopardizing natural resources, and exacerbating the climate crisis.
At each site the House of Tears Carvers joined local Tribal Nations and non-native allies in a blessing ceremony, a demonstration of solidarity crossing racial, socioeconomic and geographic divides, united by a commitment to restore harmony between humanity and the natural world.
Regal and stoic, the totem was the centerpiece of each ceremony as a symbol of Indigenous resiliency, instilling a renewed sense of pride and purpose among those in its presence.
"As the pole moves, it carries the spirits of the lands it visits," says Fredrick Lane, Councilman of the Lummi Indian Business Council. "It's like a battery that charges as it travels. As people touch it, they give it power. As it moves on, it shares that power with the next community it visits."
Many of the threatened sacred sites along the Red Road are home to Tribal communities that Earthjustice is representing in court.
Among them are the Standing Rock Sioux of North Dakota, the Bay Mills Indian Community of Michigan, and the White Earth Band of Ojibwe in Minnesota. Read ahead to learn more about each site's significance and the dire threats that each face from ongoing industry projects.
The Snake River Dams
Dams in the Pacific Northwest are pushing the region's wild salmon toward extinction, threatening Indigenous heritage, and creating economic turmoil.
The Columbia River basin was once one of the greatest salmon-producing river systems in the world. Now it is among the most heavily dammed river systems.
Four dams on the lower Snake River — Ice Harbor, Lower Monumental, Little Goose, and Lower Granite — are especially harmful, impeding salmons' passage through an essential migration corridor that joins with the Columbia River and the Pacific Ocean downstream and flows out of millions of acres of wilderness in Idaho, Washington, and Oregon upstream.
As long as these dams remain in place, salmon and steelhead migrating along this route will languish on the brink of extinction as their habitat becomes too warm and stagnant for survival.
Tribal and non-tribal communities that depend on salmon populations for livelihood, food, and recreation have suffered economic and cultural losses. As communities struggle with the economic disruption and health impacts COVID-19, the degradation of the Snake River ecosystem is compounding the challenges they face.
Bears Ears National Monument
An iconic geological landscape filled with Native artifacts in Utah was unconstitutionally stripped of protections by the Trump administration, leaving it vulnerable to exploitation by oil and uranium interests.
The area was designated a national monument in 2016 by President Obama, who invoked the Antiquities Act of 1906 to establish protections for Bears Ears as a culturally and archaeologically significant historic site.
Obama's proclamation came after years of advocacy by the Hopi, Navajo, Ute Indian Tribe, Ute Mountain Ute, and Zuni governments, along with conservation allies. Under Constitutional law, only Congress has the authority to change those protections.
Earthjustice sued Trump over this abuse of authority, which affected numerous protected monuments. On his first day in office, President Biden ordered a review of the action. We continue to urge the administration to permanently restore protections for Bears Ears.
Dakota Access Pipeline
The Dakota Access Pipeline (DAPL) violates Indigenous sovereignty and treaty rights, endangers sacred lands and water supplies, and poses severe climate risks.
Though the fight against the pipeline is not dominating headlines today, the Standing Rock Sioux have remained committed in their opposition. For more than five years, water protectors have braved arrest, the bitter cold, and sweltering heat in order to protest the crude oil pipeline near the Sioux reservation.
An oil spill would have catastrophic consequences not only to the Tribe's drinking water supply but also to millions of others who live downstream of the Missouri River Reservoir.
"In 2016, young people started a ripple effect and woke up the world to the injustices that are happening not only amongst Indigenous people, but to our relatives: the water and Mother Earth. I want us to continue to remember that ripple effect," said Standing Rock Sioux Tribal Councilwoman Nola Taken Alive as she spoke to the crowd at the National Mall, referencing the massive, historic gathering of Tribes and allies against the Dakota Access Pipeline that captured the world's attention.
The pipeline has been operating illegally since March 2020, moving over 600,000 barrels of crude oil per day. In April, the Biden administration announced that it will not take immediate action to shut down DAPL while the government conducts a court-ordered environmental review. In July, federal regulators issued a notice to the pipeline's owner, Energy Transfer LP, outlining numerous safety violations and a recommended civil penalty of almost $100,000.
Earthjustice represented the Standing Rock Sioux Tribe.
Line 3 Pipeline
Line 3 Pipeline would cut through Indigenous hunting and fishing territories, as well as some of the most fertile wild rice stands in Minnesota.
On July 25th, the Red Road stopped at the White Earth Indian Reservation in Northern Minnesota, home to the Anishinaabe. Here, Canadian oil giant Enbridge is attempting to construct a new tar sands Line 3 pipeline, which was approved without an environmental impact statement by the Trump administration.
Construction of the Line 3 pipeline — which would carry 790,000 barrels of tar sands oil per day — has damaged land, water, and ecosystems that are part of the Anishinaabe heritage and key to their livelihood. The new pipeline path would cut directly through areas with some of the highest-quality wild rice stands in Minnesota. An oil spill, which seems inevitable based on Enbridge's disturbing track record, would devastate the Tribes and their resources.
Earthjustice is representing the Red Lake Band of Chippewa Indians, the White Earth Band of Ojibwe, and other groups in this legal challenge. In July, filed an opposition to the Biden administration's continued defense of the Trump administration's approval of the project without a legally required review of the pipeline's effects on the environment and local tribes.
Line 5 Pipeline
The Line 5 Pipeline jeopardizes the health and safety of waters that are sacred to the Bay Mills Indian Community and a treasure of North American ecology, the Great Lakes.
On July 27th, the Red Road stopped in Mackinac City, MI along the Straits of Mackinac, the waterway that connects Lake Michigan and Lake Huron. Beneath the Straits runs the aging Line 5 oil pipeline, which transports oil from Wisconsin to Ontario. These waters have cultural significance to the Bay Mills Indian Community, who have lived along the Straits since time immemorial.
Bay Mills have treaty-protected access to hunt, fish, and gather in these waters, but Line 5, which has ruptured over 33 times and has leaked over a million gallons of oil, has made it too dangerous for the Tribe to safely exercise these rights.
Enbridge is trying to replace Line 5 in the Straits with a new oil pipeline encased within a tunnel, which if approved, would operate for the next 99 years. This would have catastrophic consequences for Bay Mills' food and water supply, cultural resources, and economic livelihood, as well as for Michigan's climate resiliency efforts and long-term financial assets.
"Time and time again, we must fight for what was promised to our ancestors in the treaties," said Bay Mills President and Chairperson Whitney Gravelle. "This should never happen, and it is something the Biden administration can and should address. No infrastructure project should move ahead without the consent of the tribes affected. President Biden must address this crisis immediately."
Based in Washington, D.C., Bala drives public awareness for Earthjustice's clients and their casework by drafting blogs, op-eds and press releases, while also conducting background research and analysis.
We fight to ensure our tribal and Indigenous clients' natural and cultural resources are protected for future generations.